'The blonde phenomenon from the Low Countries.' 'The far-right rabble-rouser who hijacked Dutch politics.' 'The anti-Islam crusader.' 'The man who invented Trumpism.' 'The reclusive provocateur.' 'The polder populist.'
Dutch politician Geert Wilders, the joint front-runner in the national polls, has been described in bombastic terms in the international media. All eyes are on the March 15 general elections, and not just for what they could mean for the Netherlands, the small country below sea level long known for its tolerant liberalism. The results will also say something about populism in Europe: will Brexit and Trump be followed by a Dutch populist upset and then victories for the radical -right in France and Germany later this year?
But first, let's focus on the man at the center of it all: Geert Wilders. Dutch daily NRC will try to answer who he is, how he operates and what his international role is, in nine questions. If you have others, please let us know at denhaag@nrc.nl and we'll try to answer more in the last week before the elections.
1. Who is Geert Wilders and how did he get involved in politics?
Geert Wilders (1963) was born in Venlo, a southern town on the German border. Venlo was an industrial transport hub where employment largely depended on the local printing and copying factory where Wilders' father worked. His stay-at-home mom, who had been born in the then Dutch colony of Indonesia, took care of Geert and his two older sisters and brother. Not much is known about Wilders' childhood. He was raised as a Roman Catholic, did not excel in school and has referred to himself as "a rebel" in young years. His brother Paul, who recently sought the limelight, said in a Der Spiegel interview that Wilders was "a horrible pest, egocentric and aggressive".
After high school Wilders completed his military service and spent time in a kibbutzlike moshav in Israel. He started working for the government and moved to the central city of Utrecht. Living and working in a multicultural city, he saw how people, often immigrants, benefited from the Dutch welfare system and thought it needed to be revised. He joined the right-wing liberal party VVD (People's Party for Freedom and Democracy) in 1989 and started working for them as a parliamentary aide the next year. In 1998 he was elected to parliament himself. He has been there pretty much ever since. After the March election, only two people will have been in the Second Chamber, as the Dutch lower house of parliament is called, longer than he has.
2. Did he 'radicalize'?
Wilders was always on the right of what was then the most substantial right-wing Dutch party, and conservative both in his socio-economic and his cultural thinking. He expressed concern about Muslim extremism before the 9/11 attacks. He saw the rise and death of Pim Fortuyn, a flamboyantly gay professor who emerged on the political scene with his own populist party early in 2002, only to be killed by an animal-rights activist days before the May election. After this incident, which upset Dutch politics, basically ended political correctness in the Netherlands, and invigorated anti-immigration and anti-Islam discord, Wilders and a fellow VVD-member Ayaan Hirsi Ali took center stage.
Wilders had hoped his party would give him a position in the administration. In 2002 he was passed over for the desired post of deputy minister of social affairs in favor of Mark Rutte, the current prime minister. When Rutte moved to education in 2004, Wilders failed to get the job again. A month later, he and a fellow MP wrote an internal 10-point memo insisting the VVD should swing to the right. One of their demands was that Turkey should never join the European Union and this caused the situation to escalate between Wilders and VVD parliamentary leader Jozias van Aartsen. On September 2 Wilders left the VVD but held on to his seat in parliament to try his political luck on his own.
He named his party PVV (Party For Freedom) a year later and ran a successful campaign against the European constitution that was subject to a referendum in the Netherlands. A year later he participated in the elections and won nine out of the 150 seats in parliament. Islam became his core target, both in parliament, in op-eds sent to national newspapers and infrequent television appearances. He went from thinking there were problems with radical Islam to proclaiming Islam itself to be a reprehensible, totalitarian ideology. He started comparing the Koran to Mein Kampf and said it should be banned. (Mein Kampf is banned in the Netherlands). He has called for a tax on women wearing a hijab, targets Moroccan youth, has called for deporting millions of Muslims from Europe and leaving both the euro and the EU. He also blamed 'the elite' in general and 'the media' specifically for many problems.
More than anything Wilders became a star at packaging his message. He has added words to the Dutch language such as 'kopvoddentaks' (head rag tax), 'testosteronbommen' (bombs of testosterone – referring to male immigrants coming into Europe) and 'nepparlement' (fake parliament). But there is often little content to his rhetoric. He gained international fame before the launch of what was supposed to be a controversial short film Fitna (2008), but it turned out to be little more than a compilation of known video excerpts, albeit insulting to many Muslims. His manifesto for the current elections fits on a single page and does not come with any (financial) details about how it would be put into practice. But he has really found his voice on Twitter.
3. How much power does actually he have?
Wilders' main power comes from just being a strong anti-Islam, anti-immigration, anti-EU and anti-establishment voice and thereby dragging the whole Dutch political spectrum to the right. "Policy debates, political language, media attitudes, party landscape — all have been affected by Wilders' politics", NRC political columnist Tom-Jan Meeus wrote in a contribution to Politico Europe. The Netherlands doesn't need to have Wilders in power for him to get – some of – his way.
In this election other parties on the right, his old VVD and the Christian Democrats of the CDA, have adopted some of his demands and rhetoric. There is resistance even on the left to taking in an unlimited number of refugees and accepting Eastern Europe migrant workers.
Wilders did rule, sort of, between 2010 and 2012. The 2010 election presented him with his largest victory so far: 24 seats or one in six votes. He could not make a deal with the VVD and CDA to form an actual coalition, but they did agree on a Danish style minority cabinet with Wilders' support. It was a law and order-focused government that struck a very different tone in Brussels and the rest of the world from its predecessors. But it didn't last. Confronted with the effects of the financial crisis the government had to cut its budget and Wilders refused to agree with the measures needed, forcing new elections. The current government has been in office since 2012.
4. So what's with the blonde hair?
There are some older photographs of Wilders where he had curly, dark hair, but he has been dying it blond at least since the mid-1990s. There has been speculation that he did so to deny his Indonesian roots, but whatever the reason it has been his main trademark long before anyone heard of Boris Johnson or thought Donald Trump would go into politics. He used to get his hair done in a barber shop near Utrecht Central Station but that is no longer possible because of security issues. His dark roots have been showing less and less in recent years, because Wilders has gone gray underneath the blond.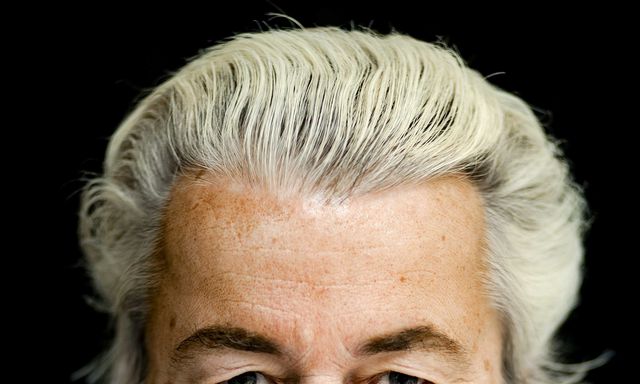 A longer version of this explainer was published in Dutch: Wie is Geert Wilders en wil hij wel regeren?
5. What about that security?
Soon after Wilders split from the VVD in 2004, Dutch filmmaker Theo van Gogh was murdered on a busy street by a Muslim extremist. He was stabbed several times and the killer pinned a note to his chest with a knife saying Ayaan Hirsi Ali would be next. Wilders, who had been threatened before, was put under 24/7 surveillance and has been so ever since. He's had to live in different safe houses, can only move around in an armored car, has probably not been inside a grocery store or attended a concert in over 12 years and hardly ever meets voters. Wilders has said that, given the situation, he and his wife Krisztina are better off without children.
Few details are known about his security. The government does not publish the costs, nor how many people are involved. Wilders recently tweeted a picture of himself surrounded by more than 20 guards. The only place where he can move around freely is the sealed-off corridor which is home to the PVV offices in parliament. He is guarded when walking to the parliament floor and the bathroom. The Dutch government is responsible for his security and does not want to take any risks with its most vocal politician who is on an Al Qaeda death list.
However, last month NRC got word of a leak within Wilders' security detail. A member involved with selecting places Wilders could visit was arrested for sharing information with others. It then emerged two others had been fired for fraud related charges. This caused Wilders to initially abandon his already minimal election campaign and stay inside. Now he is slipping in the polls, he has since planned a few campaign stops.
6. How does Wilders fit into the realm of international populism?
Wilders has often been compared to Donald Trump, Marine Le Pen, Nigel Farage and other celebrities on the radical right. They share similarities. Wilders and Le Pen even founded the populist group in European parliament: Europe of Nations and Freedom. Wilders is a leader and an example for many in the nativist world, but he is also different from all of them.
First of all, Wilders does not lead a party. His PVV only has one member: Wilders himself. The other 12 PVV MPs have no say about the course of the party; there is no transparency or internal democracy. Wilders has said he learned from the party of the late Pim Fortuyn, which fell apart after his death due to internal bickering and issues with political fortune hunters. Wilders knows he is vulnerable and wants to carefully select anyone who can represent his party. He has so far only participated in national, European and provincial elections, but in only two municipalities. The few people he surrounds himself with are basically gagged and any news coming out of the PVV is leaked anonymously.
But there are also issues he and other populists disagree on. Unlike Le Pen's Front National or the Austrian FPÖ there is no history of anti-Semitism in Wilders' politics. He is a staunch supporter of Israel and will even say so in front of a crowd unwilling to hear that message, as he did at a recent meeting of European populists in Koblenz. He is also very liberal on gay rights.
He has copied Trump's 'Make America Great Again' by taking 'The Netherlands Ours Again' as the motto for his current campaign. They also share a target audience of disillusioned white men. Like Trump and others, he has labeled the established media as 'the enemy'. But unlike Trump he is not calling into or taking part in talk shows during his campaign and he does not hold mass rallies to fire up his supporters. He has cancelled most of the political debates he has been invited to. Wilders uses Twitter as his main source of communication but, unlike Trump, he does not shoot from the hip, but calculates every tweet.
Wilders is very concerned with his international reputation. He allows foreign journalists more interviews than Dutch reporters and he often travels to other western countries to give speeches on the dangers of Islam. He denies any connection with fascism or the extreme-right. Although he has predicted a revolt or revolution, Wilders has never called for violent action, so those labels do not fit him.
7. Wasn't he convicted for hate speech?
Wilders has been prosecuted twice. In 2011 he was cleared of charges of group defamation, hate speech and incitement to discrimination. In 2016 he was in court again, this time for promising his supporters at an election event two years earlier that he would "take care" of reducing the Moroccan population in the Netherlands. This time he was found guilty under a Dutch law that protects groups from defamation, as well as for inciting discrimination. There was no punishment but he does now have a criminal record that could prevent him from visiting certain countries. Wilders' appeal is still pending.
8. How does he pay for all this?
Political parties in the Netherlands get quite a lot of government subsidies but Wilders fails to qualify for most of them, because the PVV is not a member-based democratic party. He only gets money to support his parliamentary party, but these funds cannot be used for campaigning or to pay for his legal defense – although there has been evidence that he has done this.
A Dutch law that came into effect in 2013 requires all political donations over 4,500 euros to be reported. His records for the past three years show only one major donor: The David Horowitz Freedom Center. This center, based in California, has given Wilders at least $175,000, but probably more. David Horowitz, who has been called "the godfather of the modern anti-Muslim movement", has told NRC that he doesn't care how Wilders spends his money. Because there is no transparency about the PVV's spending, there is no saying how he pays for his legal defense, campaigning or other unknown activities. Wilders literally runs a poor campaign. He doesn't have the money to pay for a venue for supporters to get together. He only campaigns online or on the street, where he relies on the security and crowd management paid for by the government.
9. So, will he govern the Netherlands after March 15?
This is very unlikely. The Dutch do not elect a president, they vote for a new 150-member parliament. No fewer than 28 parties are participating in the March 15 election and Wilders is now polling around 23 seats. This means between 80 and 85 percent of the Dutch do not plan to vote for him. The PVV could still become the largest party, which will allow it the initiative to form a coalition government. However, almost every other party has ruled out working with Wilders. They believe his ideas are too extreme and discriminatory, but also that he is unreliable, after he walked out of the budget negotiations back in 2012.
Many believe Wilders doesn't even want to govern. Why else would he do little campaigning, avoid debates and not have any sort of program to build policy on? Being a part of a coalition would force him to vet suitable people to be a part of the cabinet and most of all it would force him to do something he hates: compromise.